With the release of Nexus 5, Google also announced Android 4.4 which is designed to run smooth, fast and on large range of devices. Most manufacturers release bunch of new phones every quarter with bigger screens, faster performance, better connectivity etc. They keep on expanding their portfolios but what they miss is they don't maintain the software upgrades for their phones.
But with the 4.4 update, Google seems to narrow down the fragmentation and wants to make the update available to as many users as possible. Kitkat can be run on devices with 512MB RAM.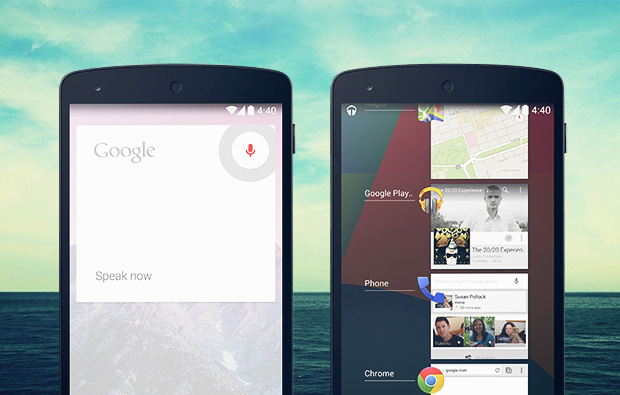 The changes in the appearance aren't significant and it is basically evolved version of Android 4.3, JellyBean. Some changes can be noticed in the launcher and in the notification bar. The blue icons in the status bar are now white and the background is fully transparent. There are new icons for some apps like Camera, and Phone.
The changes are not just visual, there are some new features too. Here's the list of everything you need to know about Kitkat.
Optimizations for Entry-level phones
Android 4.4 is optimized to run well on low-memory devices.
OEMs building the next generation of Android devices can take advantage of targeted recommendations and options to run Android 4.4 efficiently, even on low-memory devices. Dalvik JIT code cache tuning, kernel samepage merging (KSM), swap to zRAM, and other optimizations help manage memory. New configuration options let OEMs tune out-of-memory levels for processes, set graphics cache sizes, control memory reclaim, and more.
The core system processes are now trimmed to consume less RAM and less battery. New APIs are introduced to help developers create efficient applications.
---
Printing over Wi-fi
Android apps can take advantage of printing framework that allows apps to print any kind of content over Wi-fi or services like Google Cloud Print. In the apps with this functionality enabled, you can check the list of available printers and print any kind of content, be it a file, a document or an image.
---
Always Listening Google Now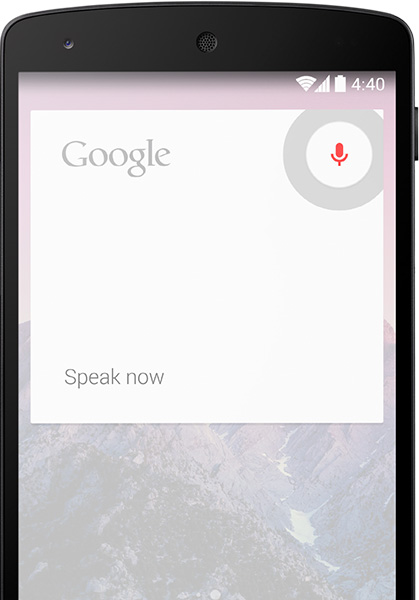 The first device which came with Always-on Google Now was Moto X, and now this feature will come packed with Android 4.4. With this feature, you can access all the Google Now features without even touching your phone.
You just need to say "Ok, Google" when you are on your Home screen or in Google now to launch Google Voice Search. You can send a text message, get directions or play a song just using your voice.
---
Immersive Mode
The new immersive mode allows you to focus on what you really want to see. While you're watching a movie, playing a game or reading a book, the immersive mode will hide everything in the background so that you can focus on what you want to do.
---
The New Phone app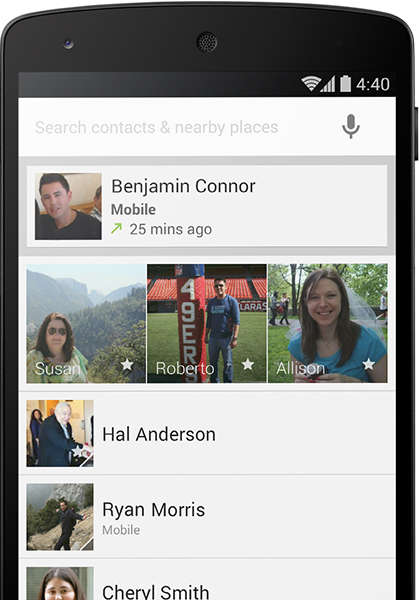 The new phone app in Android 4.4 is now more smart. The app automatically categorizes your contacts based on the frequency of interactions. You get a search box in the app using which you can search through your local contacts or google contacts.
Whenever you get a call from an unknown number, the new Caller ID will automatically look for matches in the Google Maps listings and will display the information.
---
New Hangouts App
The new Hangouts app combines your Google conversations and Video Calls with the SMS and MMS. Hangouts app now also allows you to send animated GIF and share your location.
Alongwith all these, there are some more features included in Kitkat which are as follows.
Bluetooth MAP Support
Chromecast Support
Chrome Web View
Closed Captioning
Built-in Device Management
Downloads app redesign
Easy home screen switching
Email app refresh
Full-screen wallpapers with preview
HDR+ photography
Infrared blasting
Location in Quick Settings
Location Modes and Monitoring
Low-power audio playback
Music and movie-seeking from lockscreen
Secure app sandboxes
Step counting built-in
Tap to pay
Touchscreen improvements