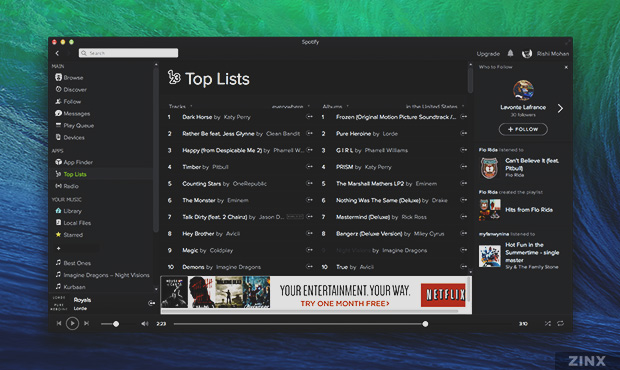 Couple of weeks ago, Spotify brought a whole new dark look on Mac as well as Desktop app. The update was limited to very less users and the update is rolling out very slowly for others users. I am using Spotify since quite a while now and I was desperate to get the latest update on my Mac because of the beautiful modern interface.
If you're like me who really want to hands-on the new look of the app, you just need to follow some simple steps to get that on your Windows or Mac. Even when you update the Spotify to the latest version, that is 0.9.8, it will downgrade automatically to 0.9.7. But there's a way you can prevent this downgrade.
So, let's see what you have to do to get Spotify 0.9.8 update.
On Windows
Windows users can update their Spotify app by using the Official installer which can be downloaded from their website. The installation process is just like the normal installation and it will bring the new interface too.
But since it will automatically downgrade to the earlier version, you can use this unofficial Spotify installer created by Javier Santos which will not only install the new Spotify, but it will also give you the option to prevent the automatic downgrade.
You just have to check the button that says "Avoid downgrade to previous version".
---
On Mac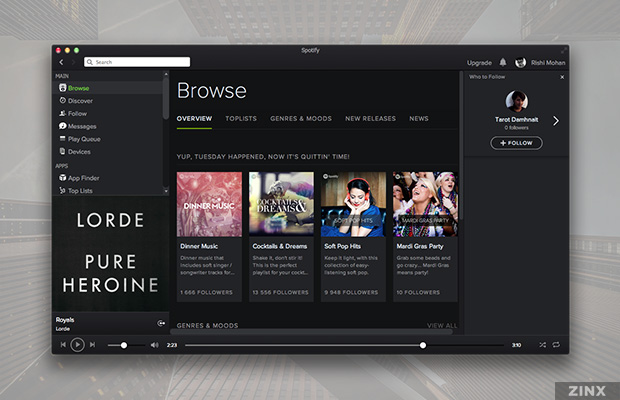 The process of update Spotify is a bit similar to what we did above, but here, we will have to manually block the auto-downgrade.
First, you need to download the updated version of Spotify using this link. What you'll have to do now is just copy the new Spotify app you just downloaded to the applications folder. If you already have Spotify installed, you'll have to replace the older version with the one you just downloaded. Once it is done, you just need to block the app to avoid auto-downgrade.
For that, jump to "~/Library" and then in "Application Support". There you will see Spotify folder, you just have to open the folder and create two new blank files in that folder. Open your favorite text editor and create a blank file and save it with the name "Spotify_new.archive" without quotes. Again, create another blank file and save it with the name "Spotify_new.archive.sig". Copy(and replace if asked) both files in the Spotify folder in Application Support.
Now you can enjoy the new look of Spotify.