Copying and Pasting text and links from one of your device to another isn't a new idea and there are already apps out there like Pushbullet. Syncing what's on your clipboard across different devices is one useful thing as you don't have to do stuff like generating QR codes to access files or copy text from your mobile device. Pushbullet is the finest thing which allows you to do so and it is available for iOS as well as Android, but where it lacks is it doesn't have Desktop apps. The reason why I don't use Pushbullet is because I have to open their website or use extension to push things.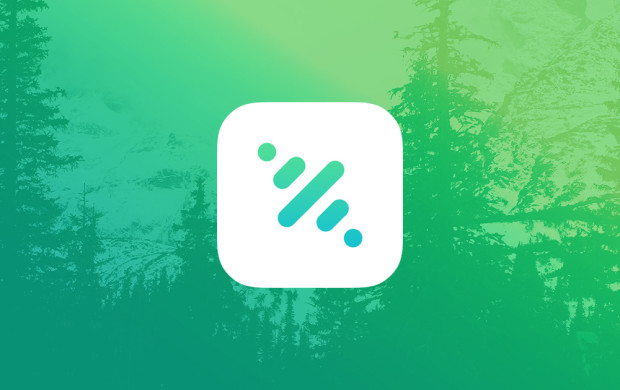 Skip, is a new app which lets users copy anything on a device and paste it anywhere on any other device, and apart from iOS and Android app, it has app for Mac and Windows too. Skip is kind of complete solution and works flawlessly. You just have to install apps on your devices and create an account, that's it. After that, everything you will copy from any of the device with Skip installed, it will automatically copy that thing on clipboard of other devices.
The app works just as it should be and is very quick. But since it uses internet to sync the content between devices, it takes some time to upload images and files.
The Android App
Skip for Android is simple. After signing up, you get a My Clips screen where it will show all the copied content from all your devices. Using the plus sign at the top right on this screen, you can Add a new clip, which can be simple text, a file or an image. As soon as you add a new clip, it will be ready to be pasted on all other device of yours with Skip installed.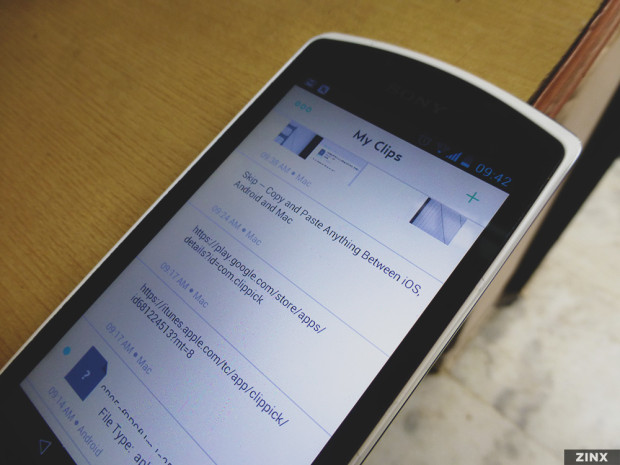 By tapping and holding on a clip, users can mark clips as favorites, copy the clip, share it or delete it. To quickly favorite a clip, you can just swipe to right over that clip. Similarly, if you swipe to left over a clip, it gives you the option to copy the clip, share it or delete it.
To upload images or photos, you can share it to Skip app from Gallery. You can upload files similarly by selecting the file in the file browser and share it with the Skip app. The app also shows a notification in Notification bar so you can quickly jump to the app and view the clipped list.
The Mac App
Skip's Mac App has pretty much the same functionality as that of its Android app. The only way to access the app after installing is from the menu bar icon, it doesn't show icon in the dock. The app comes in two column layout with list of clips in left column and the content of selected clip on the right column. It also shows the time and device from which the clip is clipped in the left column.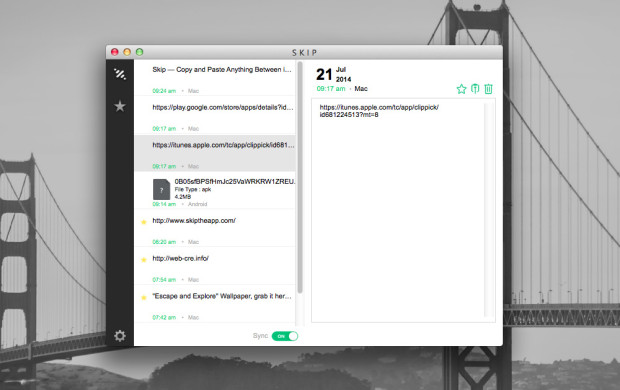 When you select a clip from the left column, it displays its meta information including date and time of clip, option to mark clip as favorite, share it and delete it along with its content which it displays at the bottom. You can quickly copy the content of the clip from the right column. For image clips, you can do a click on the image and it will give you the option to save the image on your computer. There's also a button at the bottom of the left column which allows you to disable or enable automatic syncing. Deleting any clip from one device will remove it from other devices too.
I am impressed with Skip app. By just copying something on one device, you can have that on your other devices too. It works very quickly for text and links. The only thing that needs to be improved is its stability, it crashed twice on my android phone. But overall, this is very useful app.