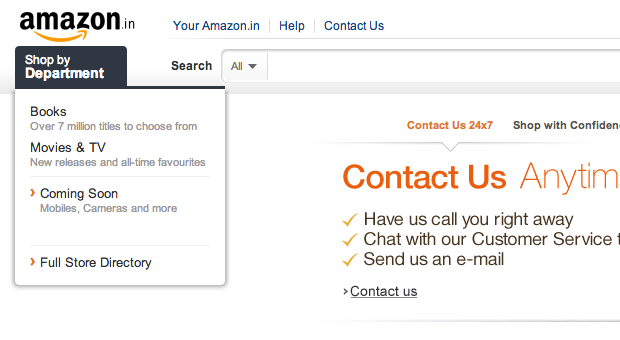 Amazon, the leading online shopping site quietly launches Amazon.in focussing on Indian Market. With sites on China, UK, US, it comes to India. Showing up Indian currency all over and not a lot products, but the store is limited for now.
The store looks same as the original site and it has books and movies for now. You can buy books, movies and TV shows from Amazon India now. It has now in stores over 7 million print books in over 200 categories covering National Authors like Chetan Bhagat, Amish Tripathi to International Authors like J.K Rowling and Paulo Coelho. Also, products like Cameras, Mobiles and more are yet to come.
Amazon introduces two new seller programs, "Selling on Amazon" and "Fulfilment by Amazon" providing retailers a huge platform to sell their products. Also, Indian users can sell their products on Amazon with no listing fees.
With Amazon in India, sites like Flipkart and others are going to get serious competition and users who who were familiar with Amazon before will only use Amazon India from now. Amazon promises good security, great convenience, low prices of products and trustworthy shopping experience.