Customization is the power of Android, which you can't have on an iPhone or Windows Phone. The level of customization you can do with your Android phone is tremendous, you can change the whole interface by using different ROMs.
But you have got options to change the launcher and use widgets to customize your phone even when you are not rooted. Choosing a launcher for me was very hard, as I was looking for decent looking, minimal and faster Android Launcher for my phone.
Atom Launcher gives your phone a minimal look with lot of options to tweak.
Atom Launcher offers advanced features just as other launchers in the market, and it has got its on widgets and store where you can download launcher extensions. The widget it provides includes clock, calendar, favorite contacts, memo and toggle widget.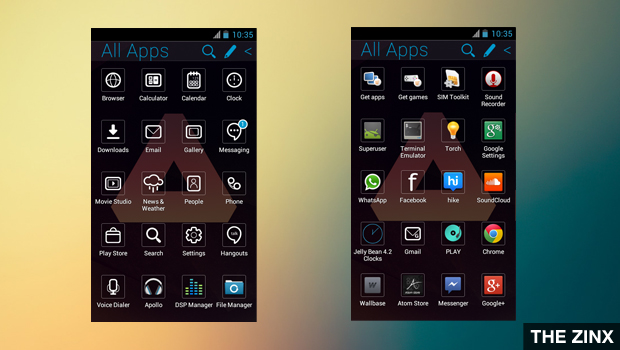 What makes this launcher different from others is its interface and the Atom bar. The launcher shows up a bar just below the status bar with clock and battery status. This bar shows up the options when you long press any icon on the home screen.
The most important thing is the launcher is free and it support themes too. Go Launcher has got huge themes, which you can use with Atom Launcher.
The app drawer in Atom Launcher is no different from the stock Trebuchet launcher, but you can sort your icons as desired and there is also horizontal scrolling alphabetical sorting view which is something unique.