Dribbble is one of my favourite sites for inspiration. The site not only allows designers and developers to share their design work but it also give their projects exposure which is good. Since it is an invite only network, Dribbble community includes high quality design work and awesome users.
Dribbble doesn't have official apps for iPhone or iPad, but there are some great people out there who made third-party apps for browsing Dribbble on iPhone and iPad. There are also apps which lets users to browse through the shots on Mac. Below are some of these apps that users may want to use, so that they can browse and find inspiration on the go on their iPhone, iPad or Mac without opening the site again and again.
Basket
Platform — iPhone and iPad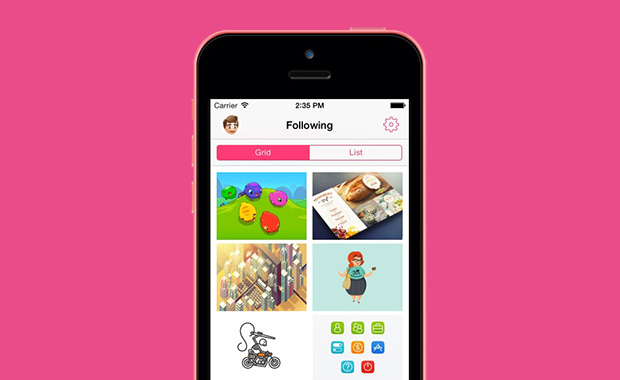 Basket is a full-featured Dribbble client for iPhone. It lets users to sign-in their account and browse through the shots in list and grid view. The app has iOS 7 inspired flat interface and is very easy to navigate. This app also supports animated GIF and has full-screen image viewer. We have shared this app before on the blog.
---
Dunk
Platform — iPhone only
Dunk is one of the first Dribbble apps created by Robocat. Dunk is basically a feed viewer. It allows users to enter a Dribbble username whose shots they want to browse. Users can browse shots through tags too.
---
Freeshot
Platform — iPhone only
Freeshot is a free Dribbble client with really beautiful interface, designed by Luke Vella. Users can explore shots from any user and after logging in, users can browse through feeds of your favourite designers.
---
Dunkt
Platform — iPhone and iPad
This app features the same functionality as above apps and allows users to browse Dribbble feeds easily. The app comes with a Metro like interface. Dunkt is compatible with iPhone as well as iPad.
---
Inboard
Platform — Mac
Inboard is basically a screenshot managing app for Mac but it also features a Dribbble feed viewer. You just have to enter the username whose shots you want to browse and it will automatically fetch the shots. You can browse the shots in full-screen view too. We earlier wrote about Inboard app when the app was in beta, it is still in beta.
---
Ember
Platform — Mac
Ember is an inspiration collecting app, allows users to save photos and images they love and it can also sync the collection with other Apple devices. Ember features a subscription option where you can add feeds of blogs or sites. It lists feeds of some popular sites including Dribbble top shots feed, Creattica and some other sites. Users can custom feeds too to fetch shots from a tag or a from a Dribbble user.