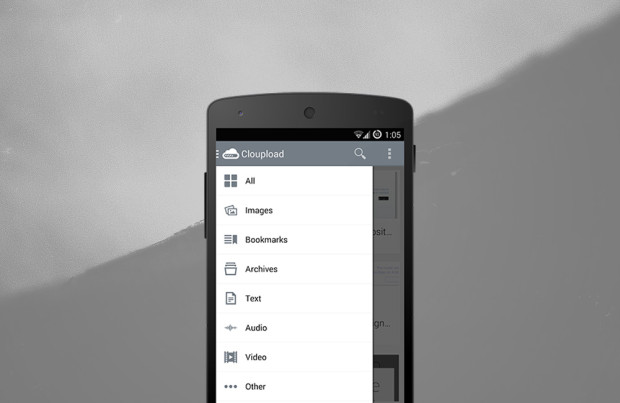 I was using Droplr for a long time and then switched to CloudApp because of the way Droplr presented the files on the Web. When I used to use Droplr which I did mostly for sharing the Wallpapers and Fonts that I share here on Zinx, Droplr used to display ads on the bottom of the file pages and I also didn't like the design of those pages. Since then, I've been using CloudApp and I am fully satisfied with the service and the way it presents the files on the Web.
CloudApp have a Mac app that sits on the Menu bar and displays the recently shared files, links, etc., just like the way Droplr's Mac app displays. You can drag and drop files on the CloudApp icon and it will upload the file to your CloudApp account and the file link will automatically get copied once the upload completes. There are nice CloudApp clients available for iPhone but unfortunately, there are not much for Android.
I came across Cloupload a few days back and I quickly installed it on my phone ignoring its icon which could be a lot better. Cloupload is a minimal app which lets you manage your files and upload files to your CloudApp account.
Once you log into the app using your CloudApp account, it displays your files in grid-view with icon, file name and upload date. For photos, it displays thumbnail of the photo in place of the icon. The main screen shows all your files with options for Search and Refresh at the top right of the screen. A scroll bar appears at the right when you scroll through the files for quicker scrolling. On swiping right, it displays a list of different file types(Images, Bookmarks, Archives, etc.) and tapping on any one of them lists files of that particular type. This way, you can browse through your Images, bookmarks, archives, etc., quickly. On tapping on any file except the Images, it displays the icon with the file name and the number of hits. For Images, it just displays the Image with dark background and since it supports Immersive mode which is an Android 4.4+ feature, it displays images in full-screen if Immersive mode is enabled in Settings. It gives you the option to download, rename, delete the file or view it in browser. You can also share the file with other apps using the Share button at top right. So, it covers basic file management functionalities.
But when it comes to uploading files, it doesn't have any option in the app to upload a file directly. Rather, you'll have to manually locate the file and press the share button which will have a Cloupload option to upload the file to your CloudApp account, which I think isn't the only way it or any other CloudApp client should work. There should be an option in the app itself to upload files too, just as iPhone apps like Cloudie and Cloudier have. If you want to share a photo, you'll have to navigate to your favorite File Browser or Gallery app, open the photo and then Share it to Cloupload app to upload it. It shows progress in the notification bar while it uploads the file and copies the file link to clipboard automatically when it finishes uploading.
The app comes with basic settings and as mentioned above, you can enable or disable Immersive mode for Images. Apart from that, not now but you'll be able to enable Background Sync and set Background Sync interval soon.
Cloupload is a simple and nice to use app, and it doesn't have to come with lots of features as it covers the functionality that a CloudApp client should have. What bothers me about Cloupload is its icon, which is something that needs some work, and the way "uploading a file" works, as there should be option in the app to allow users directly upload the files too. But for an app that's recently released, Cloupload is a well-done app.
Cloupload is available for free on Google Play Store.