Browsers have built-in download features but it is good to extend the functionality for managing the download through Download Manager apps. Speed Download is the only app which satisfied me with the features and performance. It's most of the time when you want to download huge files and there's no Torrent option.
Browsers also have built-in download managers but I don't think they are that good enough. I found some problems with Chrome, I once paused one of my downloads, then quit the browser, opened the browser and started the same download which failed to resume. Mozilla updated its downloader a few updates back but it is slow in terms of download speed.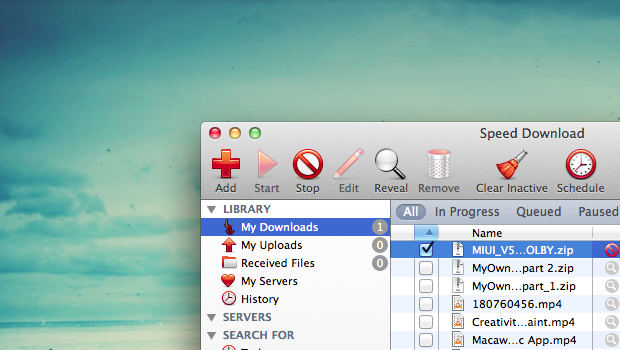 Speed Download is a downloader packed with a lot of features. The app is simple looking, but does provide core options like account logins for RapidShare, Connectivity with FTP, WebDAV and iDisk accounts and much more.
Speed Download is the fastest of all the similar apps I tested. It uses all your Internet speed to download the files as fast as possible. You can also integrate Speed Download with any of your favorite browser so that you can just save files from browser using Speed Download.
It's most of the times that I download something and then I forget where have I download it. The app organises your downloads by time, like Today's downloads, Yesterday's downloads so you can search through your downloads easily. You can set a default folder where you can put all the download in, or you can also select the folders manually everytime you download something.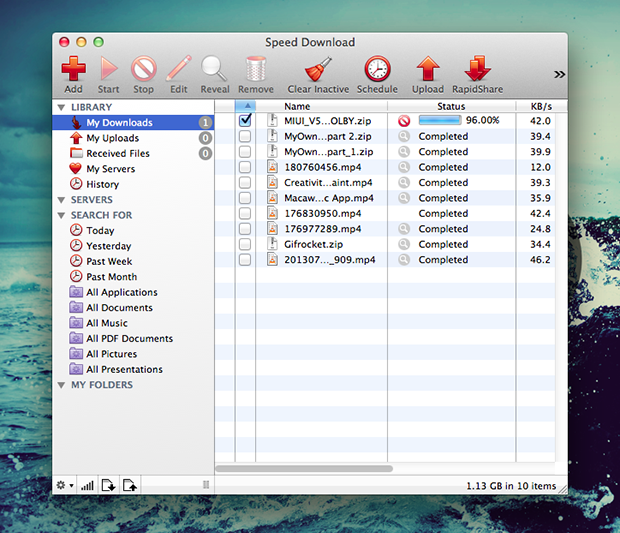 You can also schedule downloads, and it is very helpful for someone like me. I just schedule most of the downloads for the night. So, my downloads will automatically start while I sleep. You just need to set the date and time and keep the app open, it will automatically start the selected or all downloads at the time.
While you download something, the app's dock icon also shows the current download speed just like uTorrent or Transmission shows. You can enable app's simple view mode to get rid of the big window. The simple view mode is Mini Window which shows only the informational stuff, like download speed, file name and the time remaining for the download to complete.

The app have integration option with iTunes, so everytime you download any music, it will automatically be added to your iTunes library. The integration with Safari allows you to directly download files from Safari using Speed Download.
I don't know what they have done in the app but it downloads the files much quickly as compared to other downloaders like Progressive DM, SpeedTao and others. SpeedTao is Twitter like downloader but it lacks many feature.
Update 01/08/2014 : Speed Download is no longer available now. If you're looking for another download manager for mac, check SpeedTao.