Sunrise Calendar is a new calendar Mac app made for Google Calendar and iCloud. This calendar app is actually a web app and is already available for iOS and Android. The Mac app looks pretty much the same as its web version.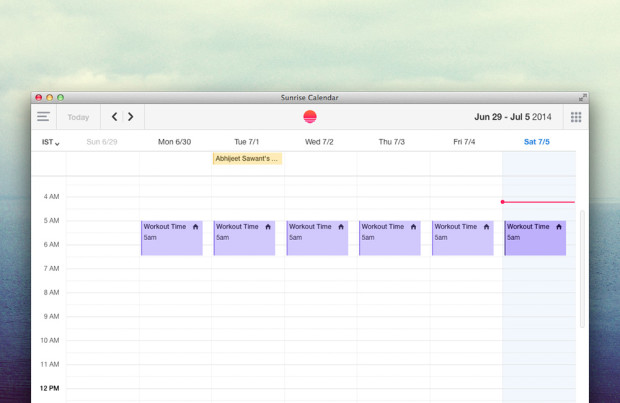 The app lets you sign up using your Google, Facebook account, or you can also create a simple account using your email. If you used your Google account to sign up, it will automatically sync all your calendar events.
The app is minimal and looks nice. You get a two column layout with Search box, Calendar overview and Accounts of the left column. All the Calendar events are displayed on the right column. There's also a header bar at the top with option to show or hide the left column and navigation buttons and an option to switch between week and month view at the right side. There's nothing much else apart from these. You get a drop-down just below the header bar to change the time zone. To create an event, you can just click in the front of the hour or just drag between the hours grid. It will then pop-up a box where you can enter the event details like Event title, Location, etc. After creating an event, it will get immediately synced to all your devices automatically. You can also edit or delete existing events.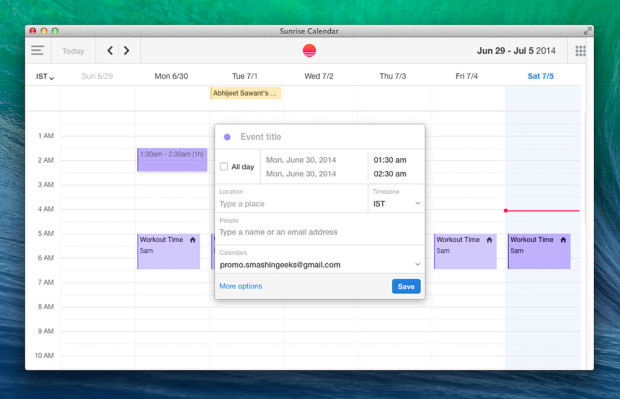 On the left column, you can select the accounts of the events you want to see. In Preferences, you can set options like Time and Date format, Refresh frequency, default Calendar(if you have multiple Calendar accounts added). You can connect your other social profiles with Sunrise Calendar to sync events from those profiles. It supports tons of Social sites including Facebook, Twitter, Evernote and Foursquare.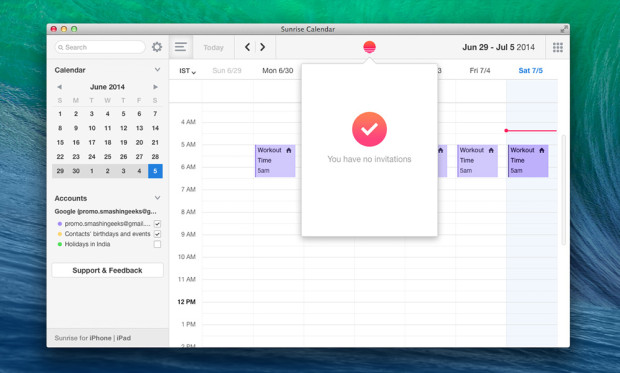 The app looks like it's just created using Fluid app. It's same as the web version, but there's no problem with it. If you haven't used the version and use the Mac app, you will feel as if it's a native app. I liked the way the design is done, its simple and elegant. Sunrise Calendar is good for those who use it on their phones too.
Sunrise Calendar is available on the Mac App Store.