The end of the year 2013 is not too far from today and just like last year, Facebook listed the top trends of the year. At the end of every year, big sites like Google and Facebook recap the year by listing the Year in Review.
The Social Network has one of the biggest database of users and the data that comes from the users is significantly helpful. At individual level, Facebook creates a Year in Review page for its users where they can see the most happening updates from them. Facebook also lists the friends which interacted the most with you.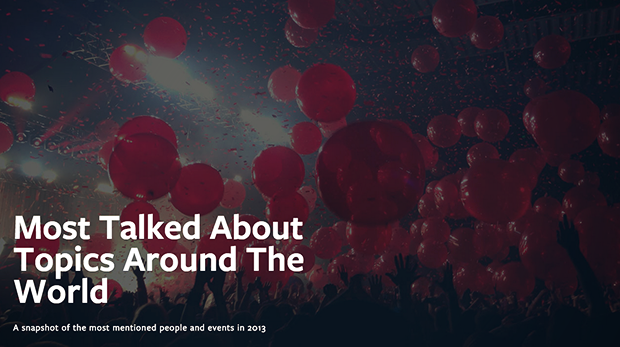 You can check your Year in Review page here.
Conversations happening all over Facebook offer a unique snapshot of the world, and this year was no different. Every day, people post about the topics and milestones that are important to them – everything from announcing an engagement, to discussing breaking news, or even celebrating a favorite athlete or sports team.
Here are the top global trends of the year 2013.
Check-ins Around the World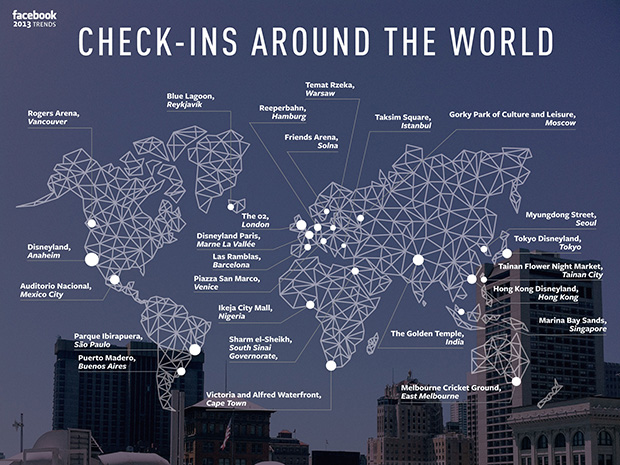 The places around the world with the most check-ins.
Argentina: Puerto Madero, Buenos Aires
Australia: Melbourne Cricket Ground (MCG), East Melbourne, Victoria
Brazil: Parque Ibirapuera, São Paulo
Canada: Rogers Arena, Vancouver, British Columbia
Egypt: Sharm el-Sheikh, South Sinai Governorate, Egypt
France: Disneyland Paris, Marne La Vallée
Germany: Reeperbahn, Hamburg
Hong Kong: 香港迪士尼樂園 | Hong Kong Disneyland
Iceland: Blue Lagoon, Reykjavík, Iceland
India: Harmandir Sahib (The Golden Temple)
Italy: Piazza San Marco, Venice
Japan: 東京ディズニーランド (Tokyo Disneyland), Tokyo
Mexico: Auditorio Nacional, Mexico City
Nigeria: Ikeja City Mall, Ikeja, Lagos, Nigeria
Poland: Temat Rzeka, Warsaw
Russia: Центральный парк культуры и отдыха им. Горького | Gorky Park of Culture and Leisure
Singapore: Marina Bay Sands
South Africa: Victoria & Alfred Waterfront
South Korea: Myungdong Street, Seoul
Spain: Las Ramblas, Barcelona, Catalonia
Sweden: Friends Arena, Solna
Taiwan: 花園夜市Tainan Flower Night Market, Tainan City
Turkey: Taksim Square, Istanbul
United Kingdom: The 02, London
United States: Disneyland, Anaheim, California
Most Talked Topics Around the World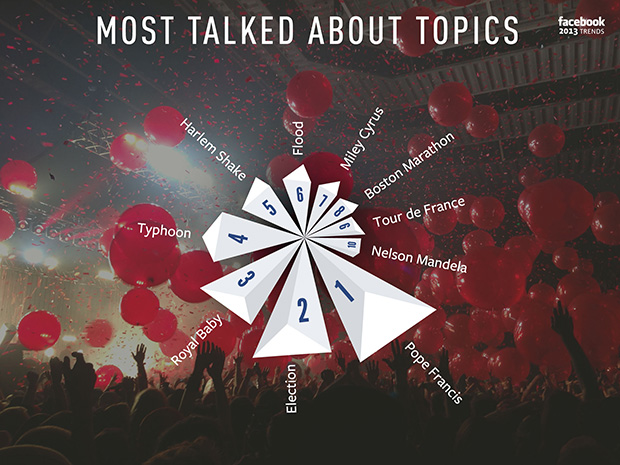 Here's a list of most talked topics around the world.
Pope Francis
Election
Royal Baby
Typhoon
Margaret Thatcher
Harlem Shake
Miley Cyrus
Boston Marathon
Tour de France
Nelson Mandela
Top Global Life Events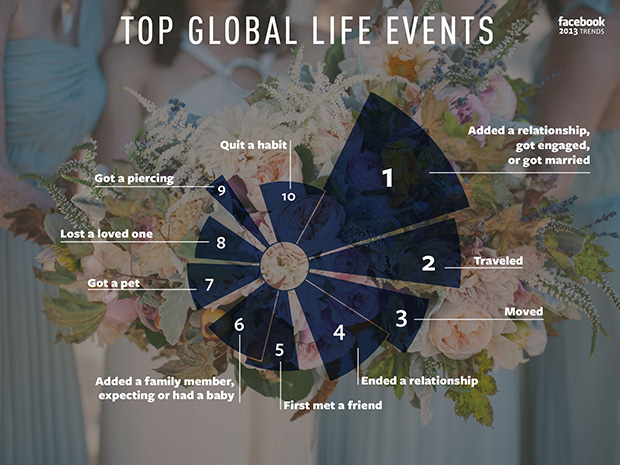 The most frequent life events of 2013.
Added a relationship, got engaged or got married
Traveled
Moved
Ended a relationship
First met a friend
Added a family member, expecting a baby or had a baby
Got a pet
Lost a loved one
Got a piercing
Quit a habit
Below are some statistics about most talked topics in different countries.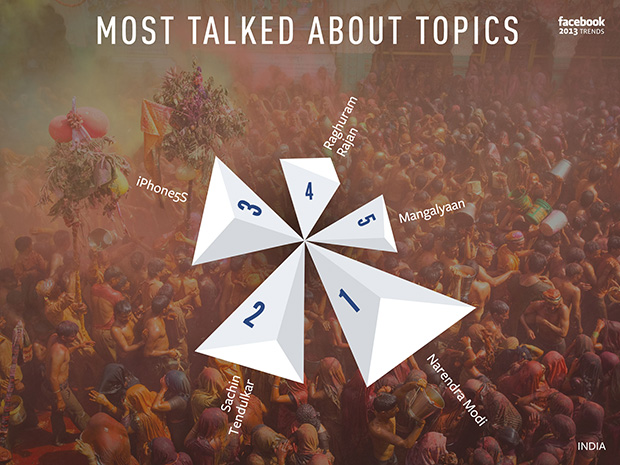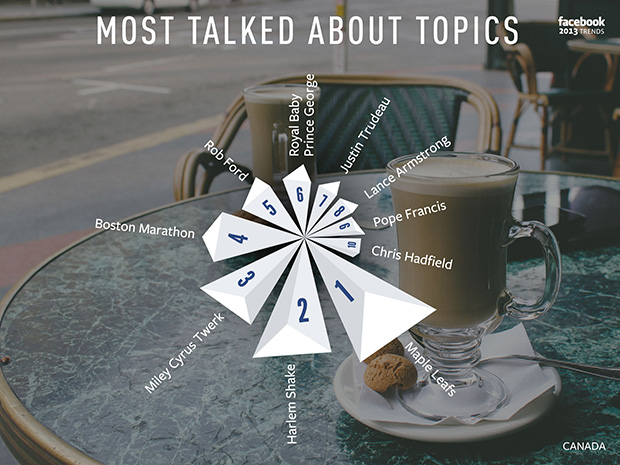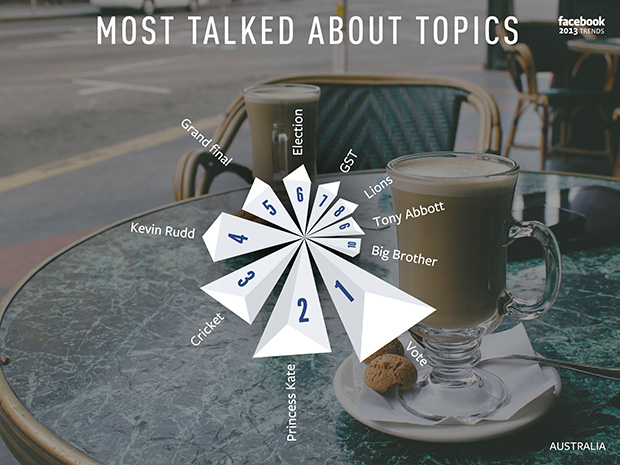 You can check more data on Facebook Stories and the official Facebook blog post.