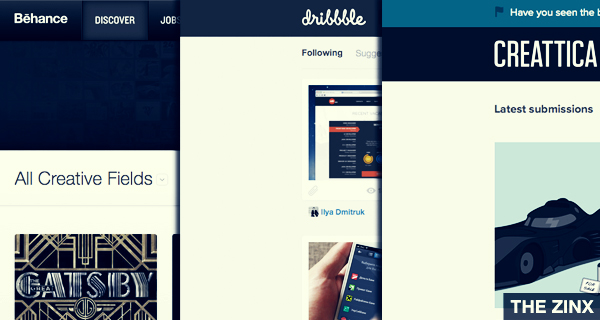 It is good to create a portfolio of your work, which makes it easy to organize your projects and designs you have worked on. It will take time to choose a domain for your portfolio, setup hosting and make a theme to make it fully functional.
But, if you don't have portfolio now, and you are thinking to create one, then I would suggest you not to create one. We have got sites for everything we want to do online. And with this, I am sharing here the sites which allows you to share your design related stuff, projects, creatives.
Behance
Behance is a site made for designers, who like to showcase their work projects. With no doubt, you can use your Behance profile as your portfolio. Behance gives you full customization options, and gives you a lot of categories to put your work on.
Behance makes it easy for you to post your work, you just have to upload and write description of your project. There are a lot of designers over Behance, and you will others work inspirational.
---
Dribbble
Dribbble is one of my favorite site with huge user base. The site allows you to upload user interface, design, and other stuff including graphic design, web design etc and share them with other creatives and professionals on the site.
You can create your account on Dribbble, but you can only discover shots and like them. You need to get an invite from a user who is already a player if you want to be a player and upload your shots too.
---
Creattica
Creattica is same as other two sites and gives you lot of categories to showcase your work. It is part of Envato network where anyone can register and submit their work, and as soon as your uploaded stuff gets approved from the staff,  your profile timeline will get updated.
Creattica is not that much popular now, but it would be in the near future as its main competitor is Dribbble, and people find it hard to get an invite. So, designers will find Creattica a good place to open their portfolios and publish their latest projects.