Inspired by the newest Web Design Trend, Android Themers are using Flat Icons and Interface in their themes, apps and skins for UCCW app. With the emerging flat interface trend, the resources are rapidly growing and with the growing resources, designers have more flexibility to use these resources in their projects.
The community of Android Customizers and Themers is very large, you can check XDA for that and everyday is a day of skins and themes. UCCW, Ultimate Custom Widget app allows you to design your own widgets with WYSIWYG editor and you can share the widgets you make with other users after exporting it.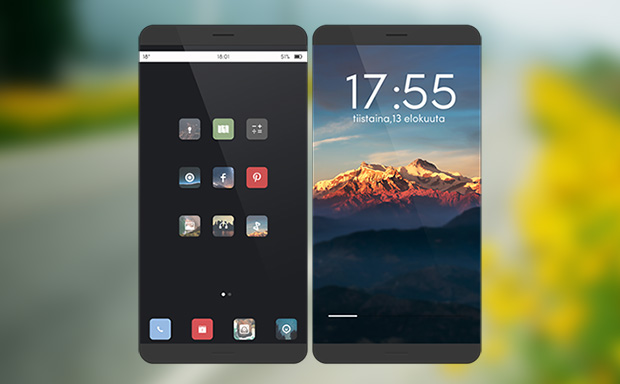 UCCW is very useful app as you can create desired widgets to customize your homescreens, and the plus is that you have some variables like Unread SMS, Gmail counts, Battery Information, Clocks which you can use in your widget. You can use different fonts, shapes and layouts for your widget and you don't need to learn programming for it, you get GUI for all this.
---
Recommended : 6 Minimal Icon Sets for Android Launchers
---
I have gathered up some of the best Flat Interface Themes for different Android launchers and UCCW skins from Play Store.
Titanium Flat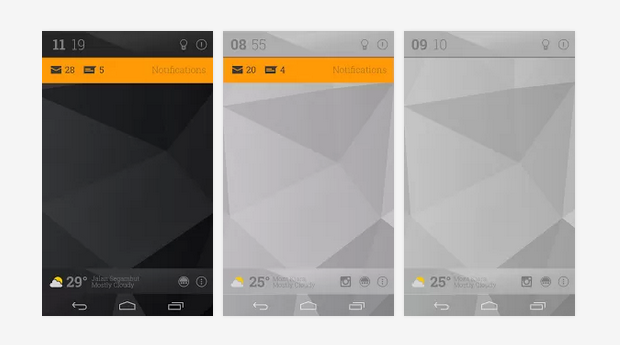 Titanium Flat is a lightweight skin for UCCW app. The theme comes with three skins with clock bar, notification bar and weather bar. The skins are customizable to some extent but they already look perfect. You need the latest version of UCCW to make this theme work.
Download (Free)
---
Holo Icons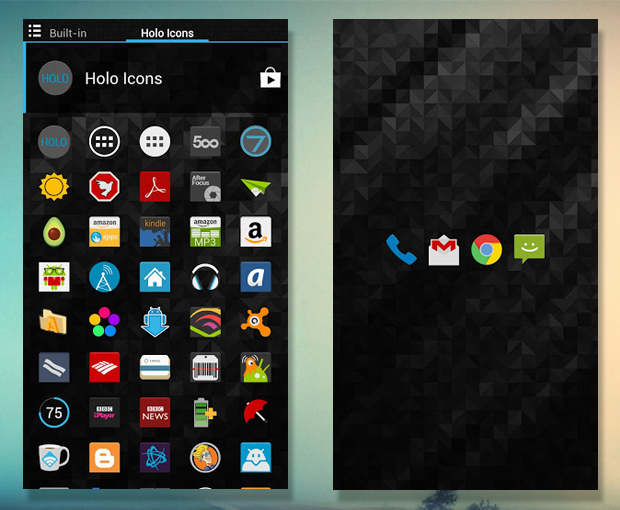 These icons are inspired from the original Holo icons which were in the Trebuchet launcher, default launcher from Google. The icons are pretty same with flat look in the icons.
If you love minimal stuff and also love to make variations of customizations on your android homescreen, then you should try these icons as they can be used with almost all launchers and the icon pack contains icons of most apps which are well-known out there in the market.
Download (Free)
---
Clear Conditions HD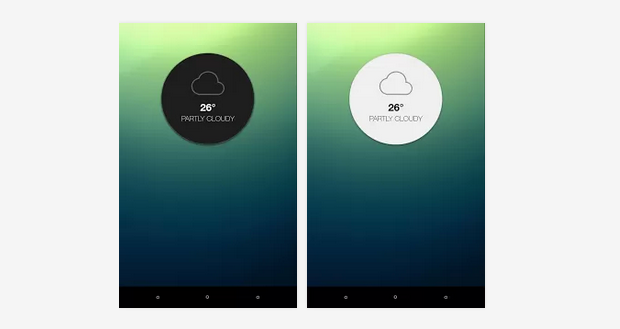 This is one of the most beautiful skins for UCCW app. As the name says, Clear Conditions HD is a minimal rounded weather widget. The pack includes two skins one with black and another with white background. The widget shows the temperature, the icon and weather description beautifully.
Download (Free)
---
Plex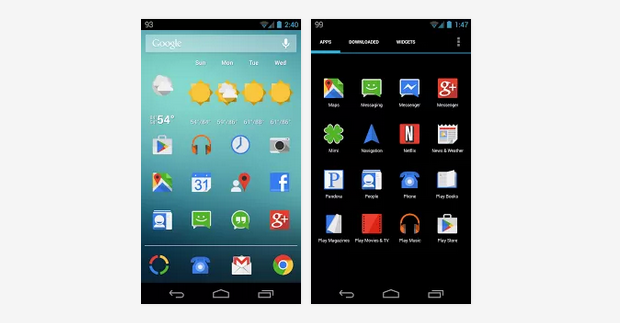 Plex is Holo inspired flat icons pack for Apex Launcher. The icons are very simple, clean and flat. The set includes over 100 icons now and the developer of the theme is adding more icons on requests. IF you are using Apex Launcher, you should check this free flat icons pack.
Download (Free)
---
Five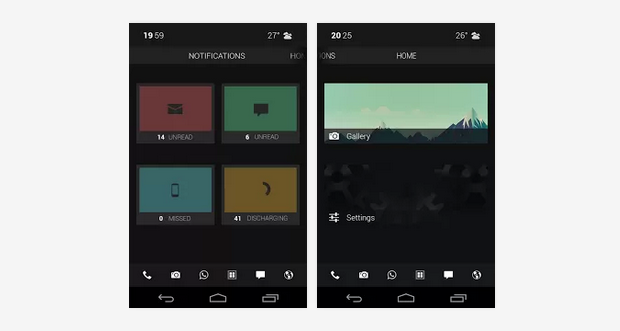 Five is basically a complete homescreen setup theme for UCCW and it is free. It comes with 11 different UCCW skins, 4 notifications, time, weather and dock skin icons. The skin have notification bar and dock fixed with screens for notifications and apps. The dock looks very nice with white icons and dark background color.
Download (Free)
---
Flat Fusion Theme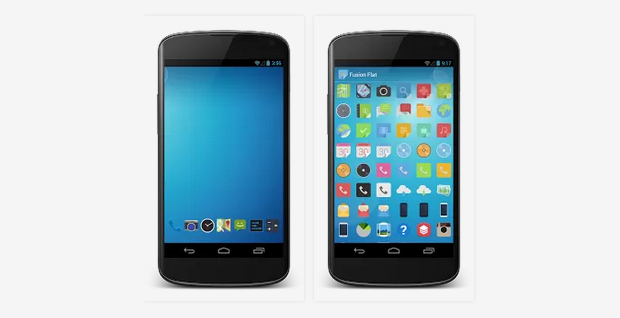 The theme comes with 185 flat icons including Custom icons for Samsung's Touchwiz or stock Google Interface. The icons looks much like the Holo icons but they have flat touch which makes the icons looks amazing. There's a request form for those who want to request icons for specific apps. You can use this theme with Apex and Nova Launcher.
Download (Paid)
---
Uniform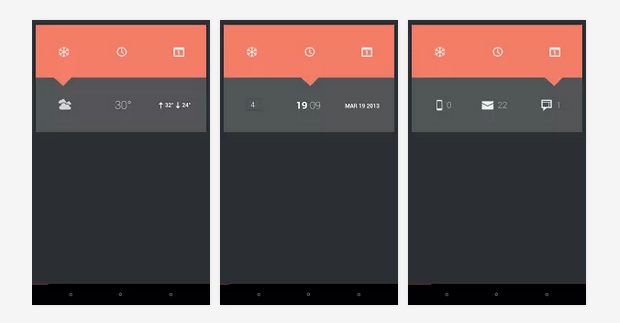 Uniform is a flat and minimalistic UCCW skin which comes with four skins, main bar, weather center, notification center and time center. If you want, you can change the colors of shapes and texts in the skin except the colors of the icons.
Download (Free)
---
Flatcons White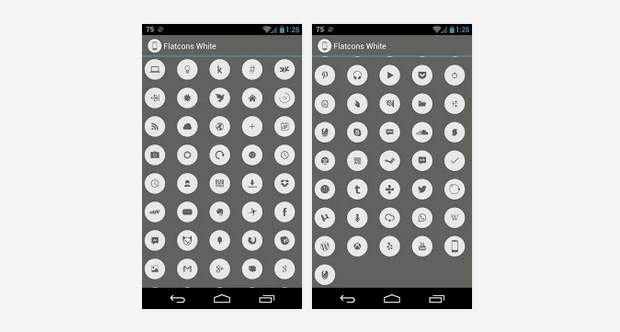 Flatcons White is a free icons pack for Apex, Holo, Nova, ADW and Action Launcher. These white rounded icons are optimized for high resolution devices and looks amazing on tablets and HDPI phones.
Download (Free)
---
Holler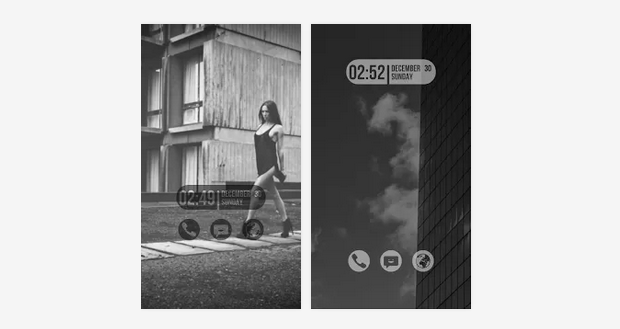 Holler UCCW theme contains 4 clocks with and without battery bar(in the middle) in 2 colors, black and white. The skins are customizable, you can find the instruction for installing the theme on the download page.
Download (Free)
---
iOS 7 Flat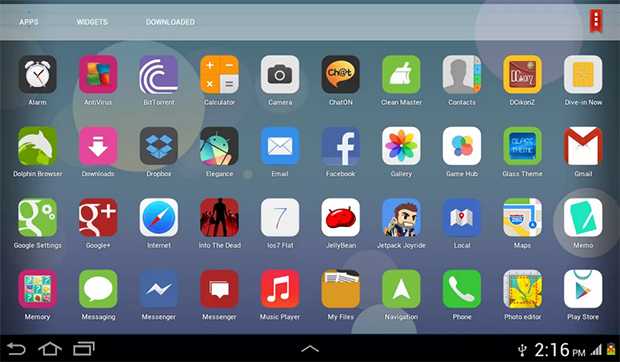 iOS 7 Flat theme is iOS 7 inspired theme with flat and rounded edge iOS icons. The theme works on Apex, Nova, ADW, Atom, Holo, Action Pro and Go Launcher. The theme contains over 1200 icons, dedicated app for applying theme, 10 high quality wallpapers and iOS 7 flat clock UCCW skin.
Download (Paid)