One of the reasons people jailbreak their iPhone so that they can customize and theme their phones. The stock iOS 7 lacks customization options and there are very limited options to change the look of your home screen or your lockscreen.
There were lot of additions and changes in iOS 7 update, making it one of the most trending update in the history of iOS. The all new user interface with flat design and minimal icons in iOS 7 got mixed reviews. While some of the users liked Apple's new approach, there were users who were and are disliking the new changes.
Apart from the interface, there were several introductions in iOS 7 like Parallax effect, Fingerprint sensor and 64-bit support for iPhone 5s, new notification center etc.
Unlike Android, iOS is not an Open source project. So, you can't directly access the system or modify the system files in iOS. Jailbreaking your iOS device removes system limitations through software and hardware exploits and after that, you can use themes, apps and tweaks that requires access to the root.
Cydia is an app created by popular iOS dev Jay Freeman(Saurik) for jailbroken iOS which allows users to browse and install software packages from different repositories. Since evasi0n released iOS 7's jailbreaking tool for Mac and Windows, iOS developers are coming up with tons of useful apps, tweaks and themes.
We have earlier listed some cool Cydia tweaks for iOS 7, Space Blueberry theme and BytaFont 2 app that allows users to change the font on their iPhone.
Today, we are listing some cool cydia apps and tweaks to customize your iPhone's lock screen. So, if your iPhone's running jailbroken iOS 7, these are the best tweaks you can have on your phone.
Swipey
Swipey is a simple tweak that allows users to quickly open favorite apps right from the lock screen of your phone. After installing this tweak, you can launch most used apps just by swiping left.
This tweak allows you to add up to 6 apps in the Swipey launcher.
---
iCaught U
iCaught U adds an extra security feature in your iPhone. Whenever anyone enters wrong security code on your iPhone, it automatically snaps a photo using the front camera.
It not only takes the photo but it also sends the owner of the phone an email along with the information about current location. If you really want to protect your phone, this tweak is for you.
The tweak is basically free but you can get more features in the Pro version for $2.50.
---
SkipLock
SkipLock, as the name says, disables the lock screen completely. So, if you got tired of sliding everytime to unlock the lock screen, SkipLock is what you need.
If you use your iDevice a lot, you may find unlocking your device every time a bit frustrating. You just need to install this free tweak and no more lock screen after that. After pressing the power button, you will be taken directly to the Home screen of your phone. Also, the tweak will show you the lock screen if you have any pending notifications.
To download SkipLock, you just need to add http://filippobiga.com/repo in Cydia.
---
CustomLS
If you want to customize your iPhone's lock screen, there is no better tweak compared to CustomLS. This is all-in-one tweak you need to get the desired lock screen design on your iPhone.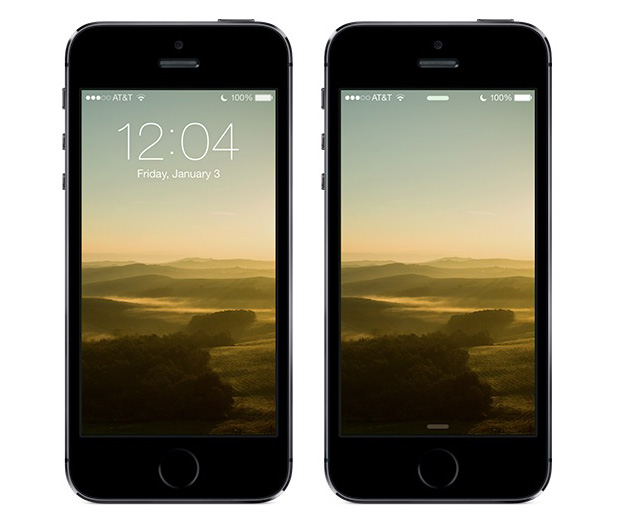 Developed by Dylan Kelly, this free tweak is a combination of Simplock and Tabless. CustomLS lets you change the default "slide to unlock" to a custom text. In addition to that, you can hide and show almost anything from the lock screen if you want including the camera grabber, notification center grabber and control center grabber.
You can download CustomLS from BigBoss repo.
---
AndroidLock XT
Android gives you the option to unlock your phone using three different ways, one of them is draw pattern to unlock. iPhone only gives the PIN code security option.
AndroidLock XT tweak allows users to unlock their phone by drawing a pattern. You can set your pattern from the Settings. The tweak also allows users to customize the look of the patterns and create custom themes.
You can download AndroidLock XT tweak from ModMyi repo.