If you're into writing, you might be using either a web app like Google Docs or native apps for Mac or Windows. For writing, I feel that it is better not to use a web-based app because that way, you can go through all your writing stuff quickly and you also get more features. For example, I currently use Byword on my Mac and it is best for me. It supports markdown, web publishing and comes with a beautiful distraction-free interface. But if you look at some online text editors, like Google Docs, it feels more like they are built for creating reports and presentations than for writing something.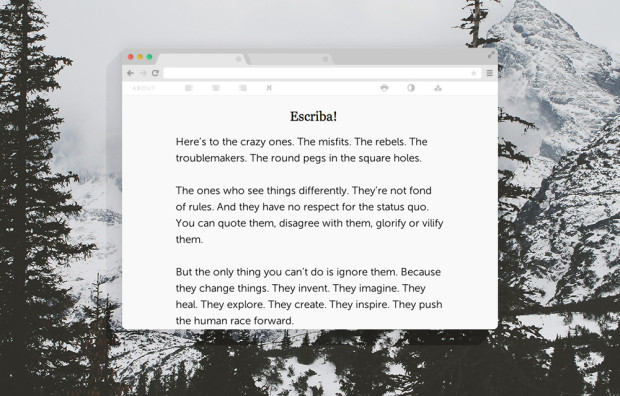 I came across Escriba through Designer News and it is the best looking web-based text editor I have ever seen. Escriba is a simple text editing web app which lets you focus on what you're writing with its clean and minimalistic interface. To start, you just need to write the title and then start writing the article. Since it isn't a rich text editor for now, it just lets users set the alignment of the body. But a huge update plus markdown support is coming soon as mentioned by the creator. While you write, Escriba automatically saves your work locally so you can access it even if you close the tab. You can also give access to your Dropbox to save your writing on your Dropbox account.
You can change the font for the body text. It currently supports a sans-serif and a monospace font. It also features a dark mode theme which is good if you're writing in night. You can quickly print your article too.
While it can't replace your favorite text editor, you can use it in many ways like taking quick notes, etc. The typography is very nicely done and the simple, distraction-free interface is all a writer needs.