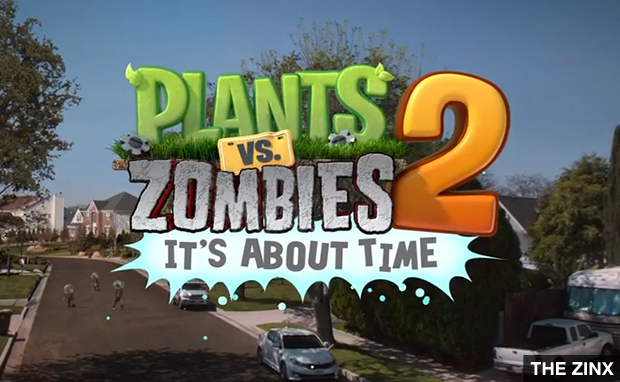 Plant vs Zombies is a very beautifully designed game for iOS, and got much popular that the game was also ported to Windows and other Operating Systems. I played this game on my PC and I got addicted to it in short time.
Plant vs Zombies 2 is announced to release for iPad, iPhone and iPod Touch in App Store on July (next month) and its trailer is already released. The game would be premium just as its previous version, and the game is about to feature lot of interesting modifications and new advances.
The tagline for the upcoming version is "It's About Time" as you can see in the screenshot above. More videos on gameplay and overview will also be released soon on the channel. It is obvious to see some new kind of zombies, and new kind of plants will also be introduced, one of them which is showcased in the video itself, the boomerang plant.
Seeing this trailer, it looks like the game developers have done nice job in improving the Gameplay experience and specially the graphics. But just as the previous version, the company will look forward to release the game for Android and other platforms later. The company is focusing on Apple users initially. But no matters, everyone will get to hit the zombies soon, and do have a look at the trailer to have an overview.