Now that Google has already announced the next version of Android which is completely different in terms of design and interface as compared with its previous versions, we'll be seeing design specific app updates not only from Google but also from developers. Google has started pushing the updates with Google Play Store.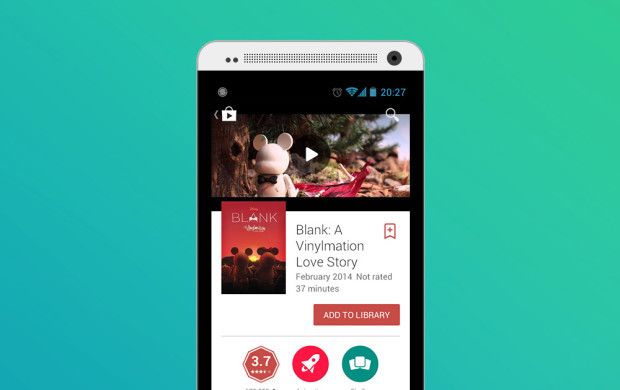 The newest Google Play Store which is currently rolling out brings an all new design for the App Listing pages. The Store Home page and the Archive pages are pretty much similar. The update brings Material Design inspired interface to individual Listing pages which makes it look more comfortable and clean.
The individual Listing pages now display a cover video or a cover photo at the top with overlay buttons for Back and Search. After the app name and icon along with the Install button, it shows the Average rating button with a nice octagon background. Tapping on the rating will display more information and comments on the app. Along with this rating button, it shows app category, people in your circle who +1d that app and a "Similar" button to discover similar apps. The app description section now just shows the main description of the app, tapping on the description or the read more link shows the full description of the app along with other information including app version, downloads and size.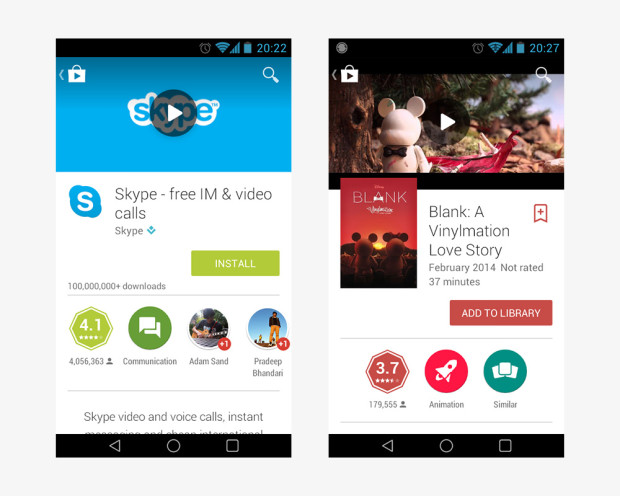 After the app description section, it shows screenshots which you can scroll horizontally. After that, it lists all ratings information and comments. Then you get a Share and +1 button. The rest of the page shows Similar apps section and Developer section which is pretty much similar as it was before.
The update is partial and I think more updates will be pushed soon. Apart from all the above changes, the update also brings subtle transitions, for example, the parallax scrolling effect on cover photo and video when you slide up through the screen.
The update is currently rolling out to users and will take a few days to reach all the users. If you haven't got the update yet, you can grab the v4.9.13 update here. After downloading the update, you just need to install it over your current Google Play Store.